Feb 2016 – Bob Gautreaux made a presentation for a Smith Cotton Jr High class studying aircraft flight and controls. Bob took a Beaver to demonstrate how the control surfaces moved and how the airplane reacts to that movement. The remainder of the time was spent with the students taking turns using the flight simulator Bob bought. This allowed the students to experience how an airplane reacts to control surface movement to reinforce what they had learned.
June 2015 – Wayne Williams, Bob Gautreaux, and the AMA District VI Vice President Randy Cameron put on a two day presentation for the Cub Scouts during their summer day camp. The theme was Taking Flight. We took several RC airplanes, explained how an airplane flies, demonstrated the control surfaces and their affect on the airplane. At the end the of the presentation the scouts built foam plate gliders which were provided by the AMA. There were a lot of smiling faces when they flew their gliders.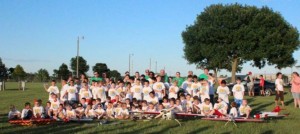 Aug 2014 – National Model Aviation Day – Bob Gautreaux and Wayne Williams setup a static display of RC airplanes and helicopters at the Thompson Hills Shopping Center. They answered questions and collected donations for Project Wounded Warrior.