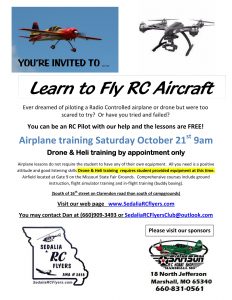 Don't miss out on this opportunity to experience the fun of flying RC aircraft.
Our next learn to fly is Oct 21 from 9 to 11 and is Free.
We provide all the equipment and airplanes.
Click here for information on our learn to fly program.
 We fly all types of RC airplanes, helicopters and drones. Our club consists of both new and experience pilots. The field access is through gate 9 on the Missouri State Fair Grounds.
Individuals age 15 and under get  free membership to our club but we still require everyone to have AMA membership  before you can fly unless flying with an instructor. AMA membership for 19 and under is free.
Sept 21th  Sedalia Downtown from 5 – 7 pm on the sidewalk in front of the court-house.  The club will display aircraft and have handouts.
I would appreciate comments to anyone that attended our learn to fly. We are always open for suggestions to make this program better.

Click here for AMA information
Academy of Model Aeronautics Membership.
Our Club Sponsors
For more information or questions click here to contact us